Dress Clip
A dress clip typically looks like a brooch from the front and is usually adorned with rhinestones, fancy metal work or a carved design. Instead of a pin back, a dress clip has a metal clip with a hinge that opens and closes with enough pressure to hold the fabric snugly. The clip is also lined with small "teeth" that grip the fabric. It is common for dress clips to be found in pairs.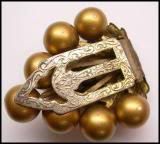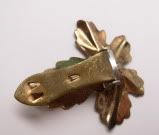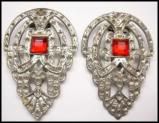 Fur Clip
A fur clip is similar to a dress clip but instead of a metal piece with points underneath, a fur clip has two long metal prongs on a tight hinge designed to pierce a fur stole and hold it closed.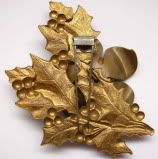 Shoe Clips
A shoe clip or shoe ornament is a decorative piece of jewelry similar to a brooch but with a clip that allows it to be attached to a shoe. The clip part itself is shorter than a dress or fur clip and does not usually have a hinge. It does have small points on the back to grip the shoe but the clip must be pinched together to attach to the shoe and pried back apart to remove. Shoe clips are of course most commonly found in pairs but are collected individually as well as they can be used to decorate purses and other items.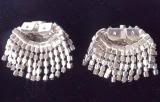 Scarf Clip
A scarf clip is another piece of jewelry that looks similar to a brooch but does not have a pin closure. The back of a scarf clip typically has a hinged ring type clip to thread the ends of the scarf through. Some scarf clips only have a loop and others have multiple hinges. There are many different ways to use a scarf clip and some people also use them with fabric or ribbon belts. This
website
has illustrated instructions on how to use a scarf clip.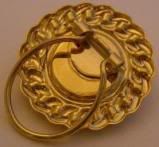 Sweater Clips
A sweater clip is usually a strand of beads or chain attached to two alligator style clips. Some are more elaborate with rhinestones or carved designs.