C Clasp
A C clasp is a piece of metal or plastic in the shape of a C that catches the pin on a brooch.
Most C Clasps were used pre-1900 as the rollover or safety clasp was invented and in use

by 1910. The use of a C clasp usually indicates an older piece of jewelry, especially when the pin part also overhangs the side of the brooc

h.
However, because c clasps are still occasionally used (usually in plastic), you should not rely on the clasp alone when dating a piece of vintage jewelry.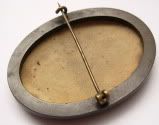 Safety Clasp
A safety clasp (AKA rollover clasp or locking C clasp) is essentially a C clasp but has an additional metal piece that rolls over the opening to lock in the pin. Rollover clasps became popular around 1910 and are still used today.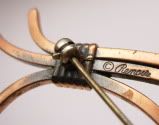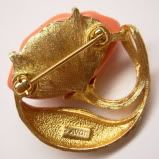 Trombone Clasp
A trombone clasp
has a piece of metal on one end that slides in and out, like a trombone, to secure the pin. Trombone clasps are primarily found in European jewelry and have been in use since the 1850's.